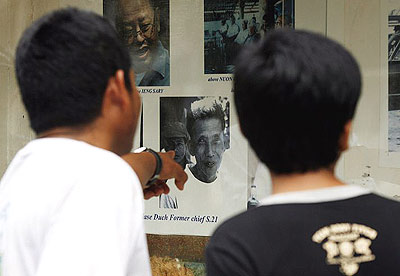 The Khmer Rouge's chief interrogator came face to face with survivors of the former Cambodian regime's notorious S-21 prison today as part of his trial charges of crimes against humanity.
Kaing Guek Eav, better known as Duch, returned to the prison where he allegedly ordered thousands to be tortured and executed during the 1970s.
His visit to S-21 as part of Cambodia's genocide tribunal is the first since the Khmer Rouge regime was toppled in 1979. The site, known as Tuol Sleng, is now a genocide museum.
Figures suggest that 16,000 men, women and children were held at S-21; only 14 are thought to have survived.
Duch was joined by several witnesses and survivors of S-21 today. Speaking before the visit, three said they did not feel angry towards Duch but wanted answers about why they had been captured and tortured.
Bou Meng, 67, said he and his wife, Ma Yoeun, were both put in S-21 prison in 1977 and his wife was later executed.
"I just want to ask him what she may have done wrong that they had to kill her. Where is my wife?" he said.
"Duch is revisiting his past atrocities although he is not going to see blood stains or hear the scream of prisoners any more," said Youk Chhang, director of the Documentation Centre of Cambodia, a group researching atrocities carried out by the Khmer Rouge.
Duch yesterday broke down in tears as he led judges from the tribunal on a tour of the "killing fields" peppered with the mass graves of his alleged victims.
He has been charged with crimes against humanity for his role as commandant of the regime's largest torture facility. He is one of five former high-ranking Khmer Rouge officials being held for trial by the tribunal.
An estimated 1.7 million people died during the 1975-79 communist regime as a result of policies that caused starvation, overwork, lack of medical care and execution.